Charms and Mojo Hands – $65
"Tokens of magical and spiritual aid."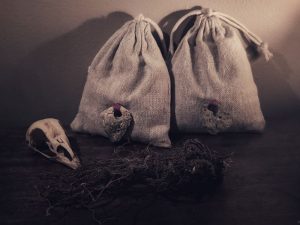 I select the best materia magica I have access to, awaken each one, and give them instructions that pertain directly to your needs before conjuring them into a concentrated whole. This materia magica may be items I have foraged, crafted, or are otherwise quite rare. No matter their source each item is chosen with careful consideration.
I select times in which to create your conjure bag when astronomical phenomenon aligns most to your benefit without delaying its creation for an unnecessarily prolonged period. The end result is a tangible piece of magic that you can keep with you and work yourself in order to sustain them and their magic. Each one will be unique, with the pictures shown here serving only as examples. Detailed instructions on how to use and care for your charm and conjure bags will be included. I favor conjure bags for ongoing, long-term circumstances that require consistent attention.
Due to these items being handcrafted specifically for you a consultation is required so that I can assess what manner of conjure bag would be most suited to your needs. I am also currently only offering these items for clients in the United States and Canada.
I will always work to the very best of my capabilities on your behalf. However, as with all things in life, charm or magic cannot be guaranteed. I ask that you please understand that before enlisting my services. Additionally refunds will be extended only in the event that I am unable to create your charm or conjure bag in accordance with the scheduled time.
Thank you for entrusting your concerns to myself and my folk magic ways. It is truly a pleasure to work on your behalf.