Divination
"Divination is the inquisitive examination of life and how it translates into language through oracular mediums."
We formulate a question, shuffle our oracular devices, and lay them out so as to cast a spell that broadens our awareness. When sufficiently broadened we are able to look through the entire window, rather than only a select few panes.

And the Diviner
"My goal is always to provide you with clear guidance, particularly when you experience the sensation of being at a crossroads."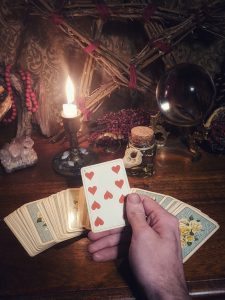 I have engaged in divination with a focus on cartomancy for over a decade. I have also studied extensively under Dr. Camelia Elias for several years.
My style of reading favors the cunning folk method of common sense, detached discernment, and paying attention to what I see. I analyze the cards that appear for you and extract the most precise and relevant narrative from them that I can in order to provide you with clarity.
I allow any intuitive or other abilities to serve adjunct to my deductive reasoning. I find this delivers readings that are more consistently brilliant in order to best help you.