"Your workings and items draw on the experiences I have cultivated for many years, yet are completely tailored to your specific circumstances."
It begins with a complimentary consultation. This dialogue is the foundation of my work on your behalf as it allows me to understand who you are, your goals, and formulate solutions to best serve you. What I initially need from you is a summary of your circumstances and how you wish to modify or enhance them. Once I have a clear understanding of your situation I will present you with one or more solutions ideally suited to your needs.
We can then address broad concepts such as: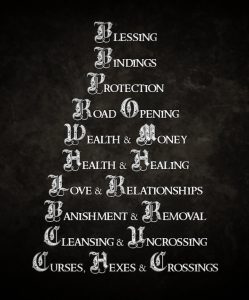 From there we may refine this into more specific goals such as dealing with a nasty boss, establishing peaceful communication with an ex-lover, finding an ideal job, or removing the influence of the evil eye in your life. The possibilities are limited only by our ability to define our needs and desires with language.
As with our own health, maintenance and prevention are the best angle in which to practice folk magic from. However, sometimes things take an unexpected turn or reach a state of crisis. At other times deeply rooted issues or circumstances require multiple techniques and approaches to help you attain your desires. In all instances I work to the best of my capabilities on your behalf. I demand nothing less than excellence from myself.
For more detailed specifics on the folk magic services I offer please visit the following pages: